At the age of 7 he began studying classical guitar, continuing the training course up to the Diploma at the Istituto Superiore di Studi Musicali G. Briccialdi of Terni. Playing on prestigious guitars at the Conservatory of Music and in numerous courses of improvement, he was driven by a great passion that led him to a rigorous study of the physics of sound applied to the construction models by the great masters violin makers, then moving to the construction of guitars through the patient acquisition of ancient art thanks to the precious teaching of workers who have been transmitting this knowledge for generations in the laboratories for violin makers.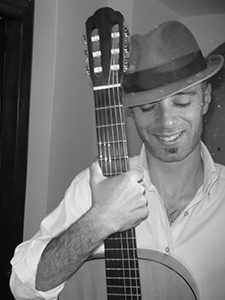 Since 2004 in his Laboratory of Vallerano (VT) he creates traditional instruments on personal idea and design, researching an ideal metaphysical state of the balance between sound, timbres and various dynamics. Valuable and seasoned woods from twenty-five to over fifty years: fir of the Val di Fiemme, Canadian cedar, sitka fir, Indian rosewood, santos, amaranth, ebony makassar and gabon, cocobolo, marbled and eyed maple, marbled poplar, cypress, mahogany honduras, cedrella, therefore woods for any request.
The glues are of animal origin, shellac-based paints, and many tools from the past are his work material.
His guitars are built one at a time, dedicated to particular people and events, linked to hermetic philosophies, which are the inspiration during the construction. They are instruments appreciated by numerous concertists of national and international fame.